The Clusterfuzz Jr. is the smaller brother to our Clusterfuzz. It's the same circuit under the hood, with a few less features to allow it to fit into a standard 125B-sized enclosure. It uses the same types and values of components as its bigger brother, we simply scaled it down to a smaller footprint based on feedback from our customers. You asked; we listened! (and if you want something smaller, check out the Clusterfuzz Micro).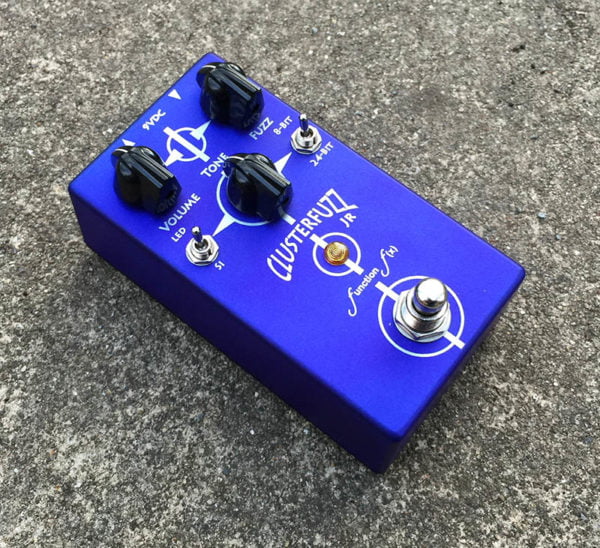 As with all Function f(x) pedals, the Clusterfuzz Jr. sports a soft-touch, relay-based true bypass switching system.
Click here for the Clusterfuzz Jr. manual.
Clusterfuzz Jr. Features and Specs
Three clipping options for different saturation levels: No diode clipping, LED, and silicon diodes
Volume, Tone and Fuzz knobs
An "8-Bit/24-bit" switch to toggle between tight fuzz and square-wave velcro sounds
Input impedance: ~300K (works with buffers)
Soft touch (true) bypass
Top mounted jacks
Laser-etched artwork
9v DC operation (industry standard)
20mA current draw (10mA when bypassed)
Enclosure size: 4.78″ x 2.61″ x 1.6″  (12.14 x 6.63 x 4.05 cm)
Weight: 10 oz (283 g)
Demo Clip