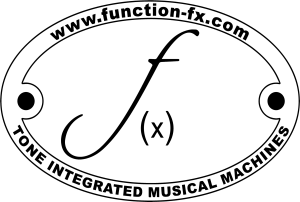 Function f(x), LLC, is dedicated to designing and manufacturing exceptional guitar pedals for tone enthusiasts and pedal aficionados. Our goal is to provide customers with reliable and aesthetically pleasing musical devices that deliver outstanding tone in any live performance, studio, or home setting.
So that we can provide our customers with products that perform consistently in a variety of environments and that are easy to repair/replace, we do not use vintage, new old-stock (NOS), or otherwise obsolete components in our products. Where possible, we use RoHS-compliant components, including lead-free solder. All manufacturing and assembly is done in the United States.
Our headquarters is located in Elk Grove Village, IL, just outside of Chicago. We have additional R&D and assembly operations in Tennessee and New Jersey.
If you have questions about our products or company, please don't hesitate to contact us.