Function f(x) strives to make the highest quality guitar pedals possible but without overblown hype and pixie-dust marketing. From unique and innovative fuzz and drive boxes to filter, phaser, and tremolo (and coming soon: delay!), our mission is deliver exceptional products to inspire and empower guitar and bass players all over the world. If you have questions or comments about Function f(x) guitar effects pedals, please do not hesitate to contact us directly. We'd love to hear from you!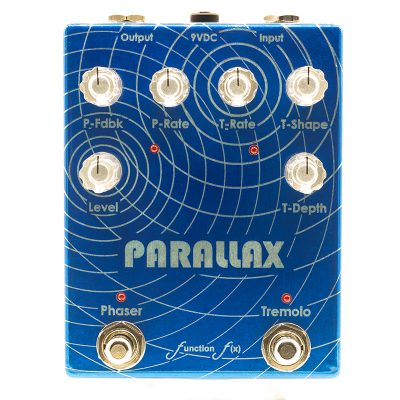 The Parallax is a modulation mashup consisting of an optical op-amp-based tremolo with an OTA-based 5-stage phaser bolted on to the…
Our Design Philosophy
As pedal geeks and DIY fanatics, we love combing through dusty boxes of old transistors, diodes, resistors, etc. There's nothing more satisfying than firing up a fuzz project made from 1960s parts and reveling in the greasy tone of Germanium transistors and diodes, or marveling at the aesthetics of wattage-overkill carbon composition resistors. But when it comes to products that we make for our customers, we stick to tried-and-true modern components with tight tolerances and consistent performance across a wide range of operating conditions. You can take your Clusterfuzz or Gate Crasher fuzz box from a cold studio directly to a hot outdoor venue and they will sound exactly the same. We value consistency and quality over mojo and unicorn tears. 
As far as circuit design goes, we do our best to be as original as possible (Clusterfuzz, Parallax, Gate Crasher, Clusterfuzz Jr.). The last thing the pedal world needs is another Tube Screamer clone pretending to have magical powers (with a price tag to match). In cases where we have recreated or largely appropriated a classic circuit (The Cannon and Accufunkture), the original circuit is called out and credited. We value transparency over hype and misinformation.